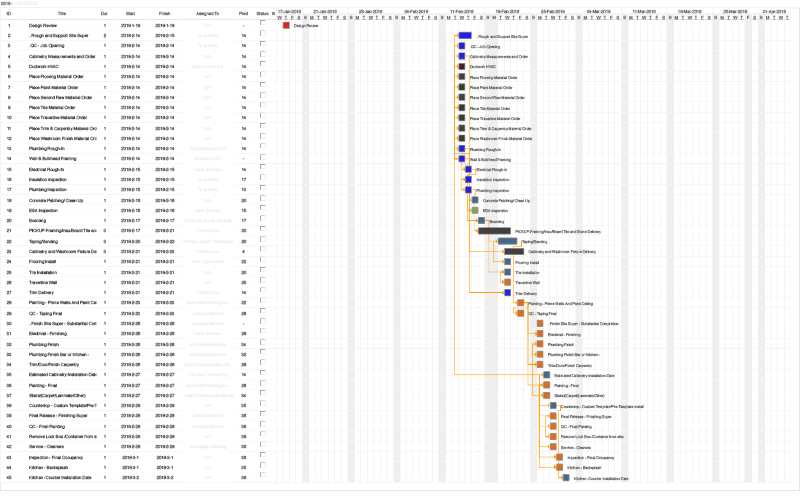 12 Apr

How long does a basement really take to build?

We've just completed another basement in under three weeks, so why not promote "A Basement in 3 Weeks" as some other contractors do? There's a few reasons, all of which we think potential clients should know.

Let's begin by defining a completed basement.

In the world of contracting, the term "Substantial Completion" refers to the bulk of the work being done, at which time the contracting team moves on to another project. If your new basement consisted of simple walls, floors, lights, and a standard 2-piece bathroom using limited finishes and options, then it is likely complete at this phase. However, if you have custom cabinets or countertops on order, they may come at a later date. The builder may consider your basement to be essentially complete within three weeks, but would you?

And what if you want to explore a range of finish options such as more than one colour of paint, or a larger bathroom, or built-in storage or cabinetry? Maybe you simply want upgraded fixtures, or maybe your dream basement includes a home theatre, reclaimed wood barn doors, or a second kitchen? Surely that's not available in three weeks?

Anybody can build a basement in three weeks if they limit the options available to the homeowner.

But, we'd rather offer clients choice. A choice of initial designs, a choice of features, a choice of finishes, a choice of floors, lighting, cabinets, doors and the like. And the larger and more complex a build, the longer the process may take.

So sure, we can build you a basement in three weeks, or maybe even less, and that might suit your needs just fine. But we can also take months to build you a dream basement that features a separate entrance and has a spa-like retreat, a custom home theatre, and a built-in wet bar along with a climate-controlled wine cellar. The point is, the choice is yours. And you should only pay for what you want, not what the contractor is trying to sell you.

We also believe customers would prefer to know when a basement will be complete, regardless of whether that's in two weeks or six. That's why we believe contractors should provide their clients with a Gantt Chart that visually shows dates and processes as they are scheduled to occur.

Going into a renovation, clients should be aware that every built is unique and that the unexpected can be expected. When walls come down and foundations, wiring and plumbing are fully exposed, there may be discoveries that will affect either the build or the finished product. An honest contractor will point out these issues and how best to address them before moving forward. Sadly, some contractors will ignore such things, instead electing to hide these issues under flooring or behind newly erected walls, rather than risking a delayed job, an upset customer or the possible cancellation of a project.

When it comes to getting a finished basement (or any type of home renovation work), the contractor you hire should attempt to co-ordinate their work schedule with yours. They should keep you informed on the project's progress and any changes that come up. They should let you know when to expect subcontractors or inspectors to be visiting your home. They should let you know where to find information on updates, whether by phone, website or an app, or through an onsite supervisor. They should let you know, in advance, when you are needed for decisions. They also need to make themselves available to answer questions when you have them.

Finally, if your contractor guarantees you a basement in three weeks, it is up to them to honour the contract that promised such deadlines. Just beware of change orders.