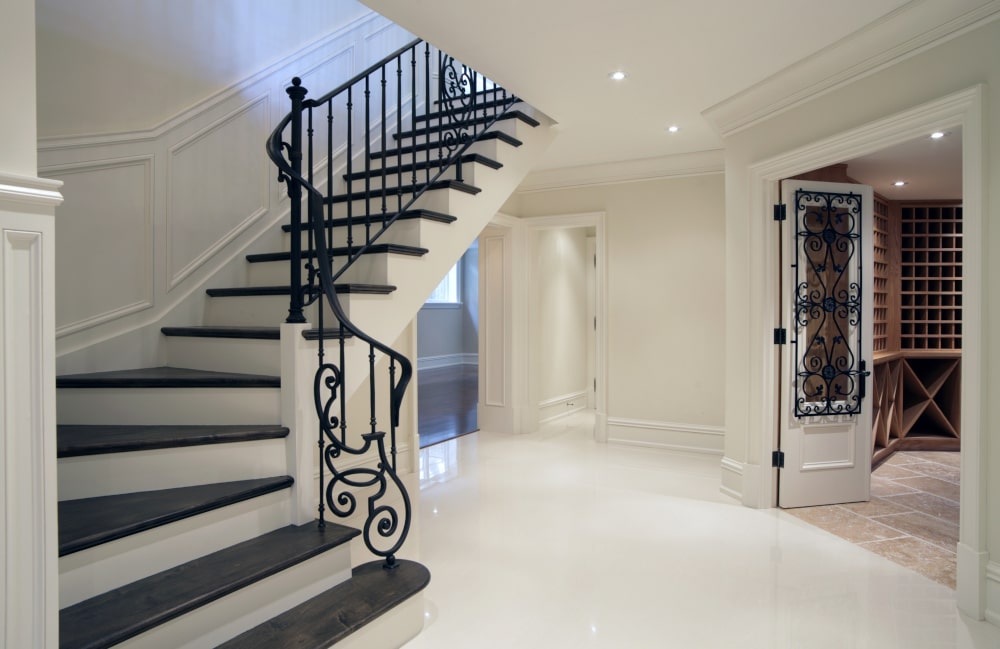 16 Apr

Basement Stair Ideas

When it comes to remodelling your basement, the opportunity to create a stylish staircase is often overlooked. Thankfully, there are numerous options out there that can cater to any desired aesthetic you may have, from traditional designs to ultra-modern staircases – allowing you the opportunity to find the perfect fit for your space.

As a homeowner, you have many opportunities at hand when it comes time to select the ideal set of stairs that will complement your basement's decor.
Basement Stair Covering Ideas
When it comes to choosing your new basement stair coverings, there are a number of elements to consider – the most important of which should be based on safety.
Carpeting is one of the most popular options for homeowners that can provide both traction and insulation from cold temperatures. However, other materials, such as wood or vinyl planks, may also be considered, thanks to their durability and ease of maintenance.
Additionally, homeowners should take into consideration factors such as cost and installation time when deciding between the different types of covering options available to them.
Whatever type of covering you chose must adhere to local building codes, as well as any applicable fire regulations, and certain coverings might also require additional structural reinforcement prior to installation due to the increased weight that can come with some materials.
Given all the variables involved in finding suitable basement stair covering ideas, it pays to conduct thorough research beforehand. Doing so will ensure that all the proper steps have been taken during the selection process, allowing for a result that can match your needs safely and in style.
Basement Staircase Ideas
When designing your new basement staircase, it's essential to consider both its style and how well it will integrate with the overall design of your basement. Aesthetics should be paramount when choosing a material for your stairway, as this will have an impact on the appearance of your living area. Additionally, safety and sturdiness are both equally important factors to take into account when selecting an appropriate surface for your needs.
There is a range of materials available for furnishing basement stairs, including metal, wood, tile, stone flooring, rubber mats or laminates; each offering their own unique characteristics and benefits. Each type has its own pros and cons – metal steps may offer strength but can become slippery if not properly treated, while wooden or laminate surfaces provide attractive finishes but also require regular maintenance, such as cleaning and refinishing. Tile or stone is also a popular choice, due to its decorative appeal, but requires careful installation, which could add considerable costs to your project total.
How to Finish Your Basement Stairs
Finishing your basement stairs requires careful planning, including choosing the right materials and taking into consideration any additional safety features, such as handrails or balusters.
It is also possible to add decorative touches, such as wrought iron basements and other stair railing ideas, in order to provide an extra layer of security while adding visual interest at the same time. These railings come in various styles and finishes, allowing you to customize them further according to your tastes.
Basement Stair Railing Ideas
There are many options available for your basement stair railing ideas that can both look great and increase safety in your home. When choosing your new railing, make sure to keep in mind:
Style: Choose railings that match or complement the existing style of your home's interior décor;
Material: Opt for materials such as metal, wood, plastic, or glass, depending on what suits your needs best;
Configuration: Consider how many columns you will need based on the size of your staircase;
Installation: Proper installation is necessary in order to ensure maximum stability and reliability.
With this combination in mind, creating a safe and aesthetically pleasing staircase can become much easier, allowing you to create a set of basement stairs that perfectly complements your home's unique style.
How Can I Make My Basement Stairs Look Good?
The first step towards making your basement stairs look better is to consider what kind of elements you want to focus on in your basement. For example, recessed lighting, wall sconces, or even stairwell runners can make a big difference in the overall appearance of your basement staircase.
In addition, colour palettes and textures that fit into the theme of your basement will also help you create a cohesive design aesthetic within your space. Furthermore, incorporating basement stairwell ideas, such as adding storage baskets underneath each step or painting risers to match walls, can add even more character and uniqueness to any basement space.
By combining these techniques with well-placed accents such as plants or art pieces, you can create an inviting atmosphere that stands out from the other rooms in your home.
What Should I Put On My Basement Stairs?
From paint colours to flooring materials, there are numerous ways to make your staircase look its best while still remaining safe and functional – it all depends on what you want to put on your basement stairs in order to bring out their unique character.
When considering which options would work best for your space, examine both aesthetic and practical requirements. For example, if you have children, then carpeted stair treads could make sure that they remain safe as they climb up or down the stairs, whereas more decorative elements, such as wall art, can help draw attention away from any structural fixtures.
Other popular choices include adding lighting fixtures around the perimeter of the staircase to create an ambient atmosphere, or even installing handrails along the walls for additional support. Regardless of whether you're going for a modern look or something more traditional, incorporating these basement stairs ideas into your overall decor scheme can help you elevate the entire area.
How Should You Design the Space Under Your Stairs in a Basement?
Designing the space under your basement staircase can be an important part of creating a functional and aesthetically pleasing living area. When considering how to finish basement stairs, there are several factors that should be taken into account.
Firstly, it is essential to consider the available space you have below your stairs in order to ensure efficient use of the area without any overcrowding or awkwardness. In addition, consider which type of wall covering will be best suited for your basement staircase, as well as whether or not it is necessary to install insulation or other features, such as shelves.
When finishing your basement, stair coverings are often overlooked as an opportunity for personalization and design. However, with some creativity and attention to detail, your basement stairs can help you brighten up your basement and add a new type of character to your space.
At
Penguin Basements, our team is here for you to help you design the perfect set of stairs for your new basement that can match your style and design needs without compromising on safety or quality. Reach out to a member of our team today to schedule your consultation.