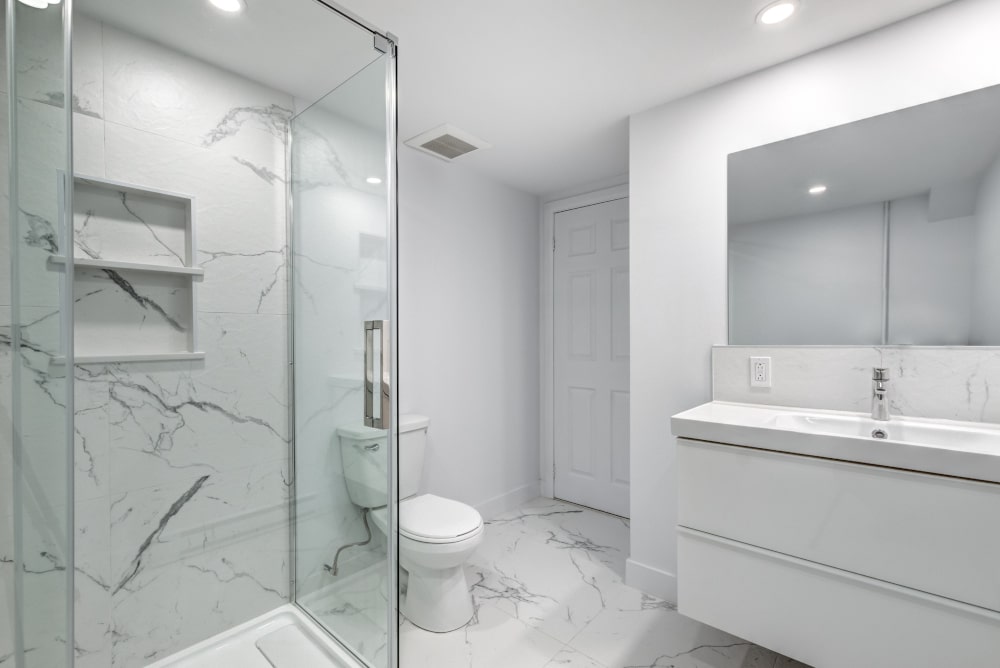 24 Apr

Basement Bathroom Ideas

For many busy homeowners, basements are often overlooked as nothing more than storage space or extra rooms used for nothing in particular – however, the right basement design can actually brighten up your home and serve many other exciting purposes as well.

Over the past few years, with basement renovation rising in popularity amongst Canadian homeowners, installing a basement bathroom has become an increasingly sought-after option, due to its convenience and ability to add value to your property.

When deciding on the right design elements for your basement bathroom, there are a variety of options you can choose from, depending on your budget constraints and personal preferences.
Small Basement Bathroom Ideas
From creating a recreational zone to remodelling a living space, small basement bathrooms can be installed in even the most limited spaces.
Small basements often require creative solutions when it comes to making use of all available space. Fortunately, there are plenty of options for those looking for small basement bathroom ideas that won't take up too much room.
One idea is to look at storage-saving fixtures such as wall-mount sinks or corner toilets. These allow for more floor area and give the illusion of spaciousness while still providing necessary amenities.
Additionally, installing sliding doors or pocket doors instead of hinged ones allows for easy access without taking up extra space. Utilizing natural light through windows or skylights also helps make the space feel bigger than it really is by adding brightness and airiness to the area.
Unfinished Basement Bathroom Ideas
With careful thought and planning (check our guide), it's easy to transform an unfinished basement into one with an inviting atmosphere in your home – especially when it comes to ideas for an unfinished basement bathroom.
When creating an unfinished basement bathroom, there are several aspects to keep in mind, starting with your budget. While your renovation project may seem overwhelming at first glance, there are many ways to save money by reusing materials or opting for affordable fixtures and tiles.
Think about which features should take priority: ventilation, plumbing options, or storage space? It's also important to determine where electrical wiring must be installed if additional lighting is desired.
Lastly, choose colours that bring out the best in your new room – light blues or grays can make even the most bare-bones spaces feel more serene.
By taking these steps into account when forming your plans for an unfinished basement bathroom design, homeowners can have endless possibilities when crafting their dream space without having to break the bank.
Basement Washroom Ideas
As homeowners look for ways to maximize their living spaces and add value to their property, they often consider installing a bathroom downstairs.
When considering whether or not to install a bathroom in your basement, there are several factors you should take into account – first and foremost, the costs associated with adding the extra plumbing and ventilation systems that may be required if you choose this option.
Additionally, basement size constraints and the lack of natural light below grade can make it difficult to create an inviting atmosphere within the bathroom itself. However, if approached properly, these challenges can be addressed with smart design solutions such as clever lighting fixtures and sleek furniture pieces that help balance out any issues posed by limited square footage.
In addition to addressing practical concerns, creating a stylish space in your basement bathroom also requires the careful selection of materials and finishes that will fit both your budget and taste. Depending on how much time and money you're willing to invest into renovating your basement bathroom, your options can range from simple paint-and-tile jobs all the way up to luxury spa retreats complete with built-in saunas and steam rooms.
Also, make sure to keep in mind that no matter what look you end up deciding on, the proper installation of features such as waterproofing membranes is essential for maintaining healthy levels of humidity in your basement in order to prevent mould growth over time.
Is It Worth It to Install a Shower in Your Basement?
Installing a shower in your basement can have many advantages, from providing additional privacy to allowing for more efficient use of space and resources. However, before committing to this investment, it's important to consider if putting a shower in your basement will be worth it based on its potential drawbacks.
The cost of installing a new shower can vary widely depending on your material and labour costs – therefore, some basic calculations should be done prior to making any major decisions. Additionally, installation considerations must also include the current venting system capabilities of your bathroom, along with whether or not any modifications need to be made in order to provide proper ventilation.
There may also be local regulations that could restrict what you can install in your basement, as well as require you to obtain additional permits before beginning work. Evaluating all these factors carefully should help you determine if having a shower in your basement is truly feasible and beneficial for your needs.
How Do I Make My Basement Bathroom Cozy?
A cozy basement atmosphere can be achieved through various design strategies in order to help make your space as comfortable and inviting as possible.
Colour choices play an essential role in this process, as they can affect how small spaces are perceived. Opting for lighter colours such as whites, pastels, and soft blues will help open up the area, while darker tones, like navy or emerald green, provide contrast and create a more intimate feel.
Additionally, adding texture to items such as rugs or throw pillows can help add even more warmth to any room, while strategically placed mirrors can not only reflect light but also create visual interest that will make it easier to move around within confined spaces.
Can a Bathroom Be Installed in a Basement?
When considering the possibility of installing a bathroom in your basement, assess whether or not there are adequate resources available within the structure of your home for new plumbing and sewage systems. The structural integrity of your basement should also be assessed, since any water leakage could lead to damage or flooding if not installed correctly.
Additionally, ventilation is another significant factor that must be taken into consideration; without proper air circulation and exhaust systems, high levels of moisture can build up, which may result in mould growth.
In addition to these practical considerations, the aesthetic aspects of your renovation project should also be kept in mind prior to installation. For instance, lighting fixtures and finishes, such as tiles or paint colours, can help you create an inviting atmosphere in what otherwise might seem like an unappealing space.
Installation of appropriate furniture pieces, such as shelves or cabinets, can also contribute to making this area more comfortable while still allowing for storage solutions that will work within limited square footage requirements.
Ultimately, it is very possible to create a functional, comfortable, and beautiful bathroom in your basement. By taking into consideration factors such as layout, materials, fixtures, and features, you can make sure your finished product meets all of your needs, while the addition of cozy touches such as textured tiles or plush rugs can help bring even more life and warmth to the room.
At Penguin Basements, we understand how important the design of your basement bathroom can be to the overall look and feel of your newly remodelled basement. Reach out to our team of professionals any time to get started on creating the basement bathroom you deserve!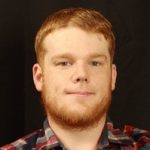 Christian Saunders, a seasoned marketing professional hailing from Toronto, Ontario, brings over 5 years of valuable experience to our team.
As a key member of our company, Christian plays a pivotal role in crafting compelling content that you encounter on our website and social media platforms. With a keen eye for detail and a passion for effective communication, Christian ensures that our brand's message resonates with our target audience. Beyond his desk, you might spot Christian on our job sites, skillfully capturing multimedia to enhance our visual storytelling.
Don't hesitate to say hello when you see him in action! Christian's dedication and expertise contribute significantly to our mission of delivering exceptional experiences to our valued clients.