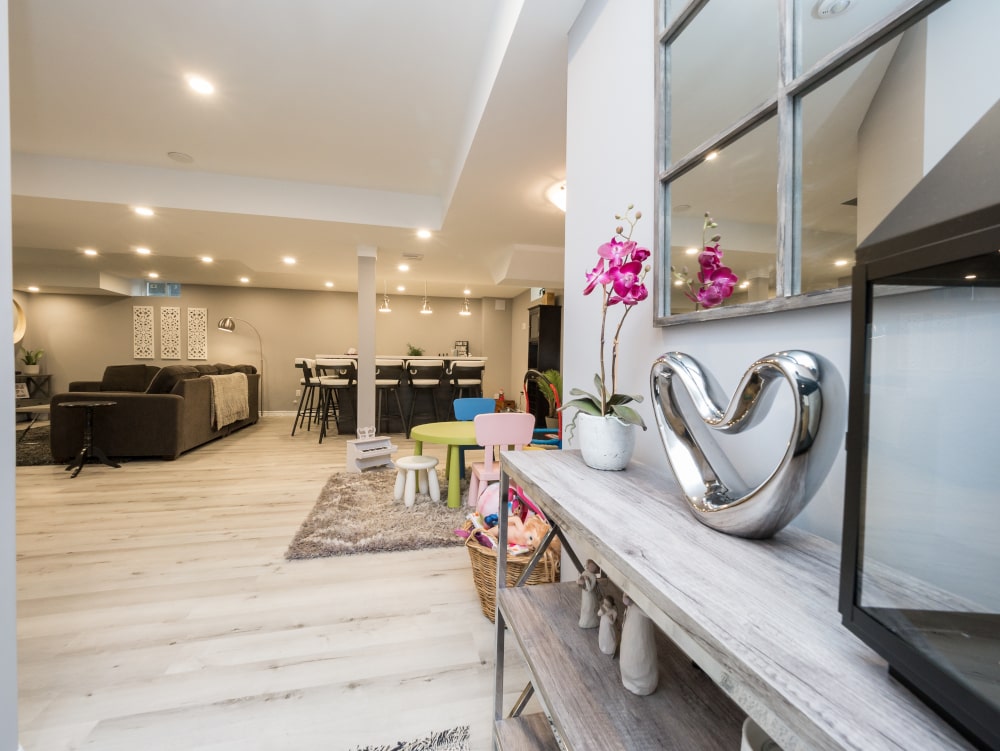 15 May

Basement Ceiling Ideas

If you're considering renovating your basement, one crucial aspect that often goes overlooked by homeowners is your basement's ceiling.

While most people may overlook their ceiling when it comes to their basement's design, it's an integral part of the overall aesthetic impact of your space. After all, your basement ceiling can be an excellent opportunity to enhance the look and feel of your basement, making it more inviting and comfortable.
Exposed Basement Ceiling Ideas
Exposed basement ceilings have been trending in recent years, and for good reason – exposed ceilings are an excellent option for homeowners who want to achieve a rustic or industrial look in their basements.
This type of ceiling is relatively easy to install, as it doesn't require any drywall or ceiling tiles. However, exposed ceilings do carry some drawbacks: they tend to amplify sound, making your basement noisier, and they may also reduce your home's energy efficiency.
One way to create an exposed ceiling in your basement is by painting the ceiling black or another dark colour. You can also use spray foam insulation to cover the ceiling and create a unique texture. Another option is to leave the ceiling joists and ductwork exposed and paint them with a metallic finish to achieve an industrial look.
Inexpensive Basement Ceiling Ideas
If you're on a tight budget, there are plenty of inexpensive basement ceiling ideas that you can consider, and one of the most popular options for homeowners is to install drop ceiling tiles. Drop ceiling tiles are easy to install, and they come in a variety of colours and styles, allowing you to customize your ceiling to match your basement's decor.
Another inexpensive option is to use drywall to finish your ceiling. While this option requires more work than drop ceiling tiles, it's still relatively easy to install. You can use drywall to create a smooth, seamless ceiling, or you can add texture by using textured paint or a popcorn ceiling finish.
Ideas for Unfinished Basement Ceilings
If your basement ceiling is unfinished, there are several ways to turn it into a functional and attractive space. One option is to paint the ceiling with a bright colour to create an illusion of height; another is to install exposed ductwork or pipes, which can add an industrial or rustic feel to your basement.
You can also use fabric to cover an unfinished ceiling. This is an inexpensive and straightforward way to add texture and colour – simply drape the fabric over the ceiling and secure it with adhesive strips or hooks. You can also use fabric to create a canopy effect by hanging it from the walls and ceiling.
What Kind of Ceiling Is Best for Basements?
The best type of ceiling for your basement depends on your personal preferences, budget, and overall style you want to achieve.
If you're going for a modern look, a smooth drywall ceiling might be the best option for you. On the other hand, if you're looking for a more rustic or industrial feel, an exposed ceiling might be more appropriate.
Meanwhile, if you're concerned about soundproofing or energy efficiency, a drop ceiling or a drywall ceiling with insulation might be the best choice for you.
How Can I Make My Basement Ceiling Look Good?
Making your basement ceiling look good is all about being creative and resourceful. One way to enhance the look of your ceiling is by adding lighting fixtures. You can use recessed lighting to create a sleek and modern look, or pendant lights to add a touch of elegance. You can also use string lights to create a cozy and inviting atmosphere.
Another way to make your basement ceiling look good is by adding texture. You can use textured paint, wallpaper, or fabric to create a unique and eye-catching ceiling.
What Is the Cheapest Way to Finish a Ceiling?
If you're on a tight budget, the cheapest way to finish your basement ceiling is by using paint. A fresh coat of paint can instantly brighten up your basement and make it look more inviting. You can also use bright colours to create an illusion of height, or dark colours to achieve an intimate and cozy atmosphere.
Another affordable option is to use fabric to cover your ceiling, or fabric to create a canopy effect, which can make your basement look more spacious and grand.
At Penguin Basements, we understand that every homeowner has their own unique needs and preferences when it comes to basement renovations – that's why we offer customized solutions that are tailored to your personalized requirements. Whether you want to create a home theatre, a personal gym, or a cozy family room in your basement, we can help you design a space that best suits your lifestyle and budget.
At Penguin Basements, our team stops at nothing to help you create the basement you deserve. In addition to basement ceiling ideas, we also provide a wide range of services, including basement waterproofing, insulation, flooring, and lighting. Our team of experts is committed to delivering high-quality workmanship and exceptional customer service, ensuring that your basement renovation project is a stress-free and enjoyable experience.
We use only the best materials and equipment in our projects when working on your basement, and we follow strict safety and building codes to ensure that your basement is not only beautiful, but also safe and structurally sound. We take pride in our work and stand behind every project we complete.
If you're ready to transform your basement into a beautiful and functional space, contact Penguin Basements today. Our team of experts will work with you every step of the way to ensure that your basement renovation project meets your expectations and exceeds your dreams. Contact us today to schedule a free consultation and learn more about our services.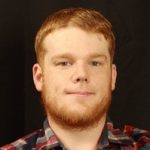 Christian Saunders, a seasoned marketing professional hailing from Toronto, Ontario, brings over 5 years of valuable experience to our team.
As a key member of our company, Christian plays a pivotal role in crafting compelling content that you encounter on our website and social media platforms. With a keen eye for detail and a passion for effective communication, Christian ensures that our brand's message resonates with our target audience. Beyond his desk, you might spot Christian on our job sites, skillfully capturing multimedia to enhance our visual storytelling.
Don't hesitate to say hello when you see him in action! Christian's dedication and expertise contribute significantly to our mission of delivering exceptional experiences to our valued clients.